FUNDRAISING RAFFLES & SPECIAL EVENTS FOR 2019


All events are in the Elmer Wilcox Memorial Lecture Hall at the Museum


Annual Quilt Raffle – "Whale Fashionistas" by Mary Hawkins – tickets $2/each, 3 for $5
Building Maintenance Fund - Painting Raffle "A View From Afar" by Bill Schwarz – tickets $5/each

JJ Roots Music Concert – July 13th, a Museum Benefit Concert, $15
Tea With Eleanor – July 28th, $8
Annual Dinner: "A Taste of Grand Manan" - August 17, $20

There are a few more events besides all of the great evening programmes – check them out under the link "EVENTS – Schedule Overview"


Mayor Dennis Green speaking at Valentine Fundraising Dinner, 2014.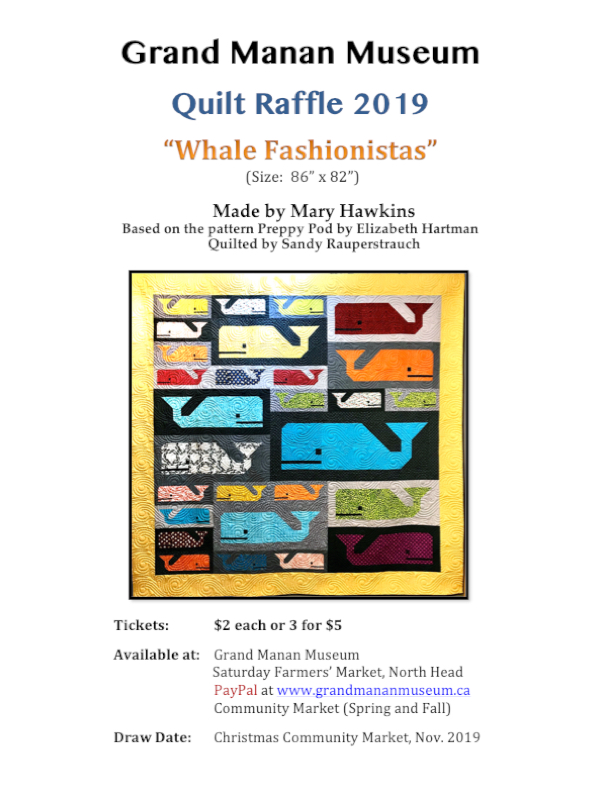 Annual Summer Dinner - In 2019 the Annual fund-raising dinner will take place on August 17th. Prepared by the Museum Board & Friends of the Museum, the turkey, ham, salads, desserts dinner cost $20.00. Doors open at 5 pm. Begin serving (self serve) at 5:30 p.m. in the Lecture Hall.
| | | | | |
| --- | --- | --- | --- | --- |
| | | | | |
| 2014 Prepared!. | 2014 dinner. | 2014 organizers. | 2014 Flower arrangements. | 2014 Staff at the door. |