The present Deep Cove School House was built in 1889. The Deep Cove School House was the longest running one-room school house on the island, closing its doors in 1947. By this time it had become obvious that other island schools gave students a better opportunity to learn, providing high school classes and a bus to transport them. Other village schools on the island remained open until 1978.

The Building was moved onto the Museum property in 1963


The original school house in Deep Cove was a log building built on land owned by St. Paul's Church Corporation (established in 1842) and was maintained by the Church of England.

The schoolhouse, besides affording a means to educate the youth of Deep Cove, was also a form of prestige for the village. It was viewed as a status symbol because in the early days the villagers had first to build it and maintain it through taxes and grants, as well as incur the costs of running it.
By 1921 a number of families had moved further away from the schoolhouse, requiring some students to walk more than a mile to and from school. Instead of building a new school closer to the centre of the village, in 1922 the Deep Cove Schoolhouse was closed down for one year and taken apart in sections to be moved further north. To keep the school centralized it was moved northerly once again in 1933. This time the building was hauled to its new location by Arthur and Reginald Carson using a government tractor.
The One-Room School House

Teaching and learning were vastly different in one-room school houses than in contemporary schools. Students in one-room school houses did not have traditional grades that progressed yearly, but had forms of continuous progress: they would learn using books and their grade moved up as they advanced in their books. Students would not only learn academics, but also home economics and employable skills.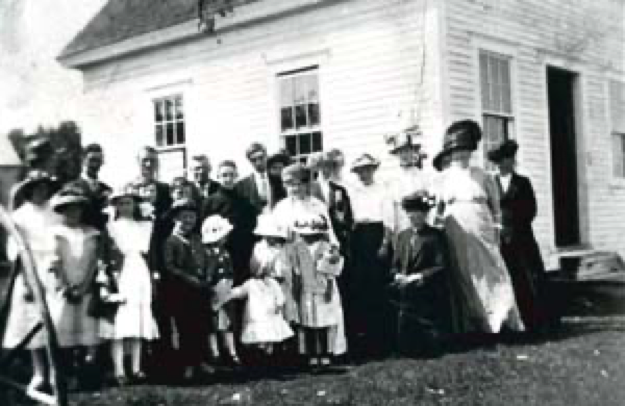 Students were equipped with one text book, a slate, a slate pencil, a cloth and water bottle for cleaning the slate, a quill pen (later, a steel nib and wooden handle), and sometimes a note book to practice penmanship; these were all of the tools the student was expected to have.
With between 30-50 students in one room (although Deep Cove only had a high-end enrolment of 19), older students would sometimes be enlisted to help the younger students, although this method often had mixed results. At times, local school-age shenanigans replaced the need for academic excellence.

Source: Grand Manan Archives - we are always looking for people to go through our very large collection of photographs to help with identification. Please contact the

Archives Office.